Who needs a VISA to visit Poland?
The visa requirements for visiting Poland depend on the nationality of the traveler and the purpose of the visit.
Citizens of some countries, such as the European Union member states, the United States, Canada, and Australia, do not need a visa to enter Poland for stays up to 90 days within a 180-day period for tourism or business purposes.
Citizens of other countries may need to apply for a Schengen visa to enter Poland for short-term stays. The Schengen visa allows the holder to stay in Poland and other Schengen countries for up to 90 days within a 180-day period.
It is important to note that VISA requirements can change, so it is always best to check with the nearest Polish embassy or consulate in your country or the relevant immigration authorities for the latest information on visa requirements.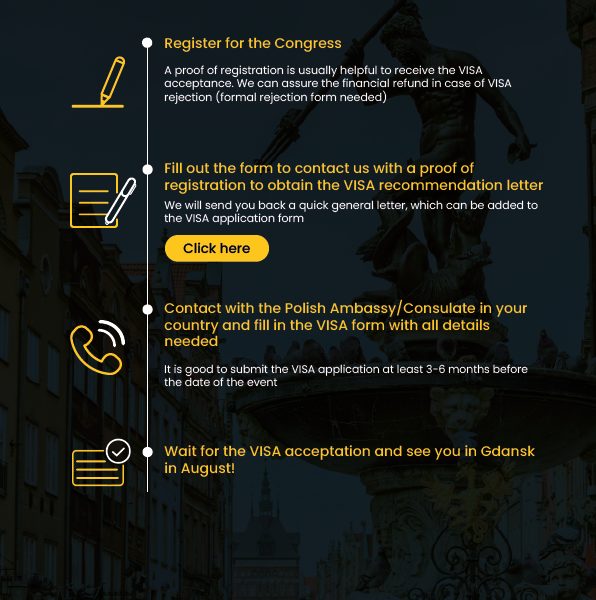 How to get a VISA?
Submit the VISA application at least 3-6 months before the date of the event:
Register for Congress
A proof of registration is usually helpful to receive the VISA acceptance, join it to your request.
We can assure the financial refund in case of VISA rejection (formal rejection form needed).
Fill out the form to obtain the VISA recommendation letter
➜ We will send you back a quick general letter, which can be added to the VISA application form.
Contact with the Polish Embassy/Consulate in your country:
➜ Fill their VISA form with all details needed.
Wait for the VISA acceptation, and see you in Gdansk in August!
For Guests accompanying the Congress Participants, who are not registered for the Congress, it may be necessary to prepare a special, personal, extra paid Letter of Invitation to be accepted by the Lesser Poland Government.
➜ Contact the Polish secretariat office (MedicaExpert Conference) on visa@medicaexpert.pl for more details.