ISAD recommends these tools in your practice and for your patients.
SCORAD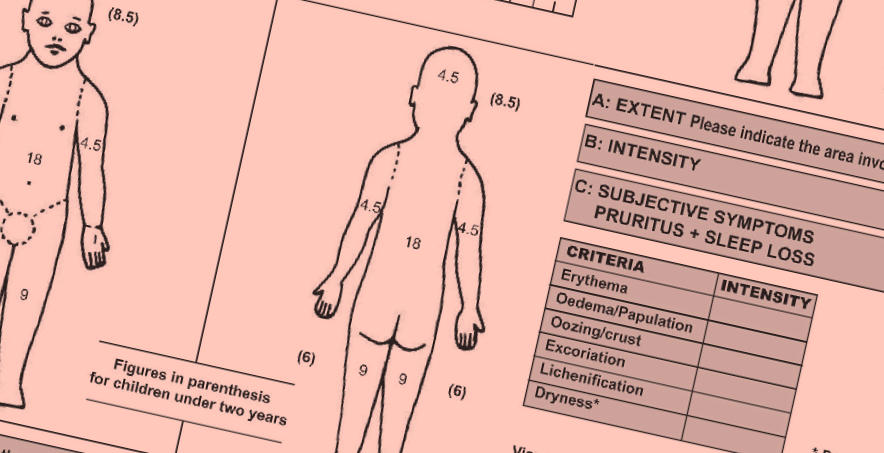 The SCORAD ("SCORing Atopic Dermatitis") index is a clinical tool for assessing the extent of the disease, disease intensity, and subjective symptoms of atopic dermatitis.[1]
It gives approximate weights of 60% to intensity and 20% each to extent and subjective symptoms. These are used to calculate a maximum total score of 103, however the scores for each category can be used individually if clinically appropriate.[2]
The SCORAD index was developed by the European Task Force on Atopic Dermatitis in 1993.[3] The index was the most widely used disease-severity scale for atopic dermatitis between its development and 2010.[4]
SCORAD original papers
The two founding papers of the SCORAD index are now in free access. Thanks to Prof. Jean-François STALDER who led the negotiations with Karger.
---
Severity Scoring of Atopic Dermatitis: The SCORAD Index
➜ Consensus Report of the European Task Force on Atopic Dermatology1993;186:23–31.
Nantes & Bordeaux, FR
Web of Science Citations: 1416 / In the top 25% of all research outputs scored by Altmetric
---
Clinical Validation and Guidelines for the SCORAD Index: Consensus Report of the European Task Force on Atopic Dermatitis
➜ Dermatology 1997;195:10–19
Kunz B. · Oranje A.P. · Labrèze L. · Stalder J.-F.· Ring J. · Taïeb A.
Web of Science Citations: 697 / In the top 25% of all research outputs scored by altmetric
PO-SCORAD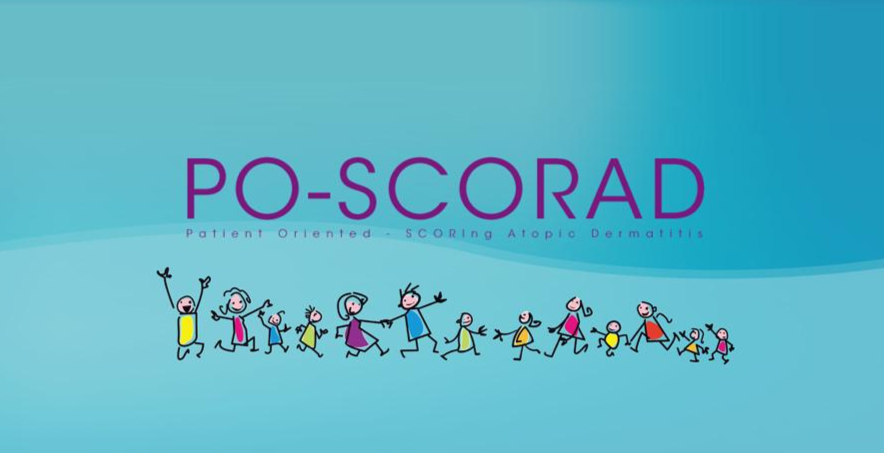 PO-SCORAD allows patients to self assess the severity of their eczema.
Self assessment helps better monitor and better treatment. It allows patients to take photos of their lesions in order to illustrate a specific moment between two consultations. Score can be calculated weekly and sent to doctor.
The new version of the PO-SCORAD includes illustrations for fair skin, dark skin and Asian skin and allows all patients to recognize their symptoms.
---
Review
➜ Recommended review background reading for investigators, by Jonathan SILVERBERG:
---
Essential AD Tools
Hanifin & Rajka Criteria Diagnostic features of Atopic Dermatitis – Hanifin JM, Rajka G – Acta DV (Stockholm) Suppl. 92: 44-47, 1980
UK Working Party Criteria Williams HC, Burney PG, Hay RJ, Archer CB, Shipley MJ, Hunter JJ, Bingham EA, Finlay AY, Pembroke AC, Graham-Brown RA, et al. The U.K. Working Party's Diagnostic Criteria for Atopic Dermatitis. I. Derivation of a minimum set of discriminators for atopic dermatitis. Br J Dermatol. 1994 Sep;131(3):383-96. doi: 10.1111/j.1365-2133.1994.tb08530.x. PMID: 7918015.
SCORAD Severity scoring of atopic dermatitis: the SCORAD index. Consensus Report of the European Task Force on Atopic Dermatitis. Dermatology. 1993;186(1):23-31. doi: 10.1159/000247298. PMID: 8435513.
EASI Hanifin JM, Thurston M, Omoto M, Cherill R, Tofte SJ, Graeber M. The eczema area and severity index (EASI): assessment of reliability in atopic dermatitis. EASI Evaluator Group. Exp Dermatol. 2001 Feb;10(1):11-8. doi: 10.1034/j.1600-0625.2001.100102.x. PMID: 11168575.
DLQI Finlay AY, Khan GK. Dermatology Life Quality Index (DLQI)–a simple practical measure for routine clinical use. Clin Exp Dermatol. 1994 May;19(3):210-6. doi: 10.1111/j.1365-2230.1994.tb01167.x. PMID: 8033378.
CDLQI Lewis-Jones MS, Finlay AY. The Children's Dermatology Life Quality Index (CDLQI): initial validation and practical use. Br J Dermatol. 1995 Jun;132(6):942-9. doi: 10.1111/j.1365-2133.1995.tb16953.x. PMID: 7662573.
---
Tools from GREAT [FR]
Tools (in French) listed by the Groupe de Recherche sur l'Eczéma Atopique:
---
AD leaflets for patients
The European Task Force on Atopic Dermatitis (ETFAD) has created a leaflet for patients suffering from atopic dermatis. The original leaflet in English is published primarily on the website of the European Academy of Dermatology and Venereology (EADV) and can be seen here.
As we know there is a need for more information about the disease in many countries, we have translated the leaflet to different languages with the help of native speaking medical doctors/dermatologists.
You are most welcome to use the leaflet free of charge for the benefit of your patients.
On behalf of the ETFAD
Mette DELEURAN, Andreas WOLLEMBERG, and Sebastien BARBAROT